Park Hyatt Milano Hotel
45.465594

,

9.188573
885US$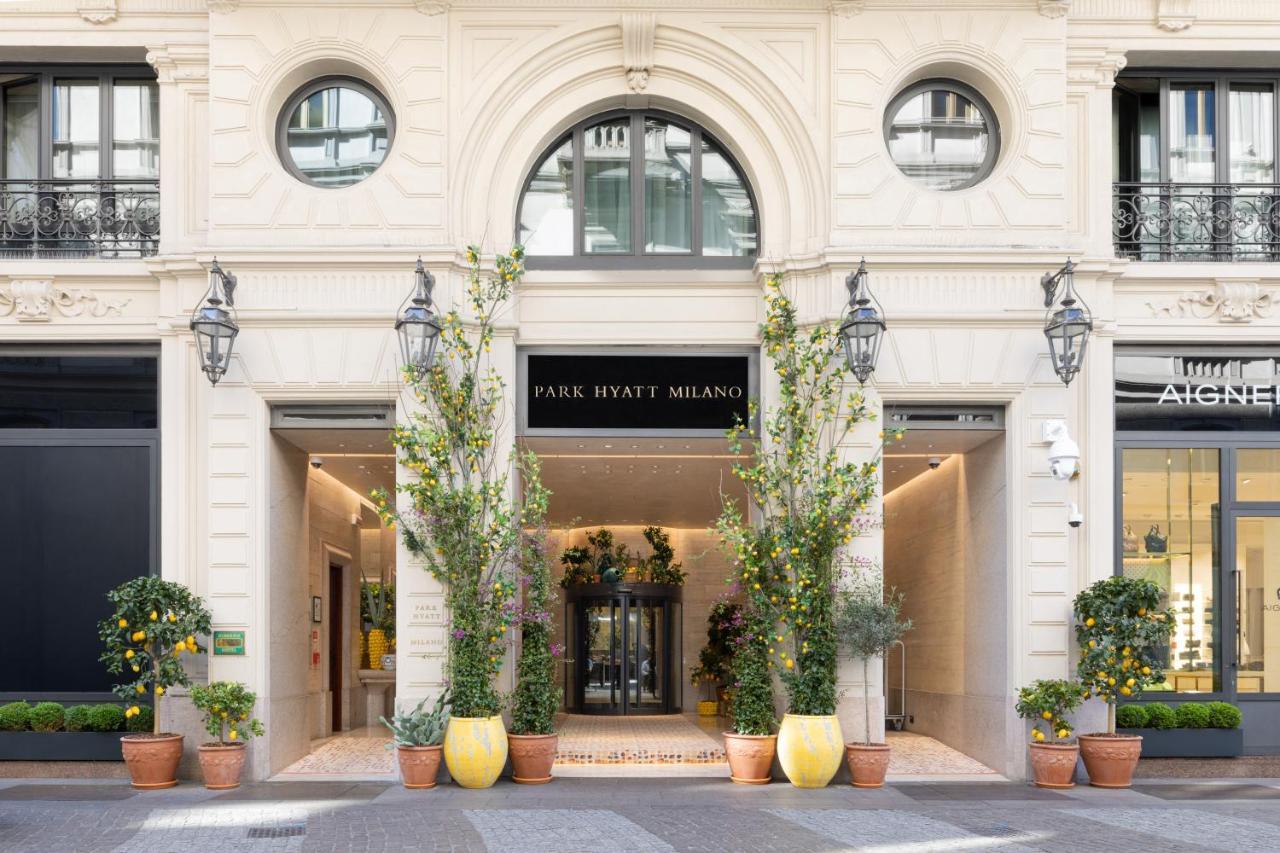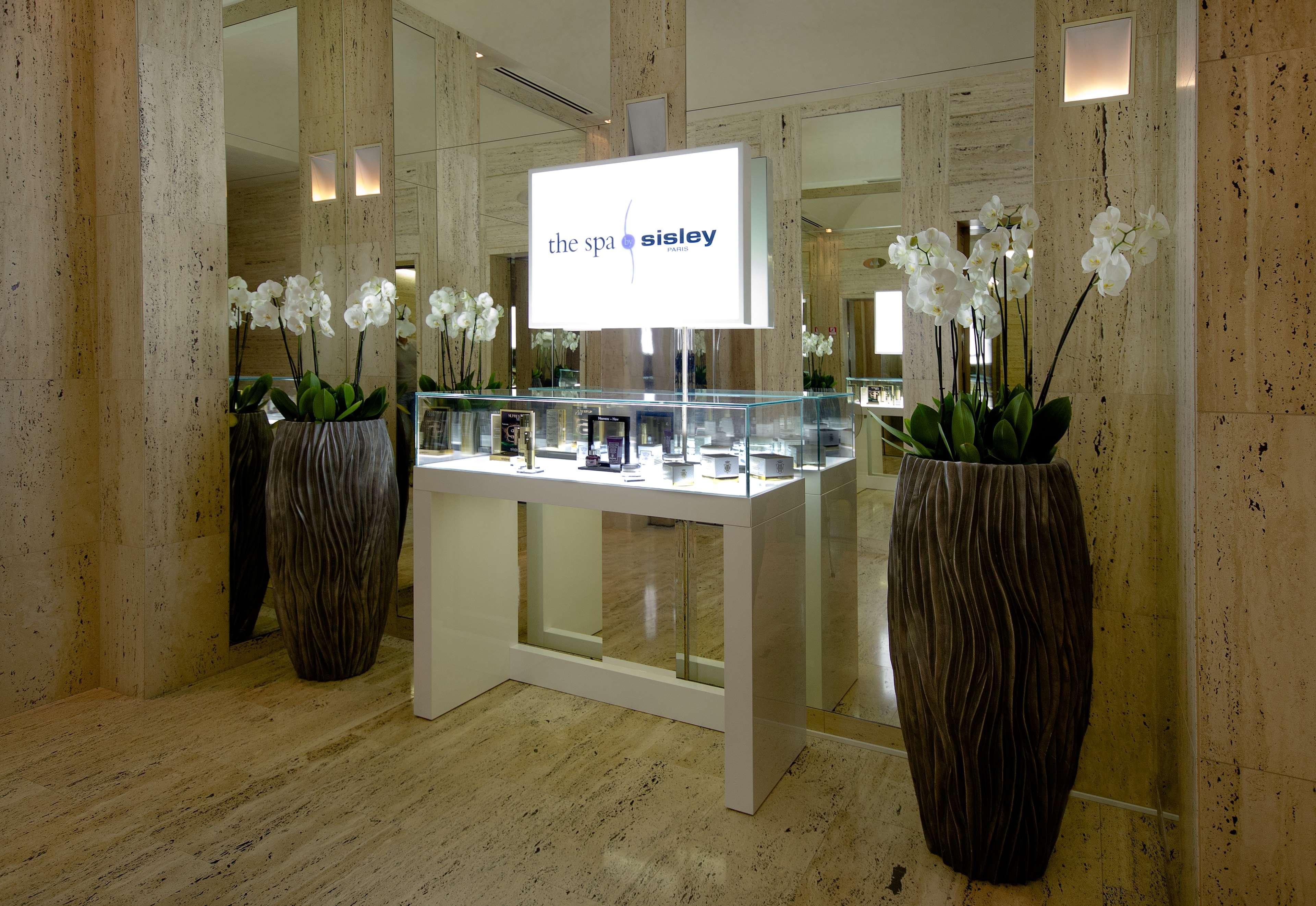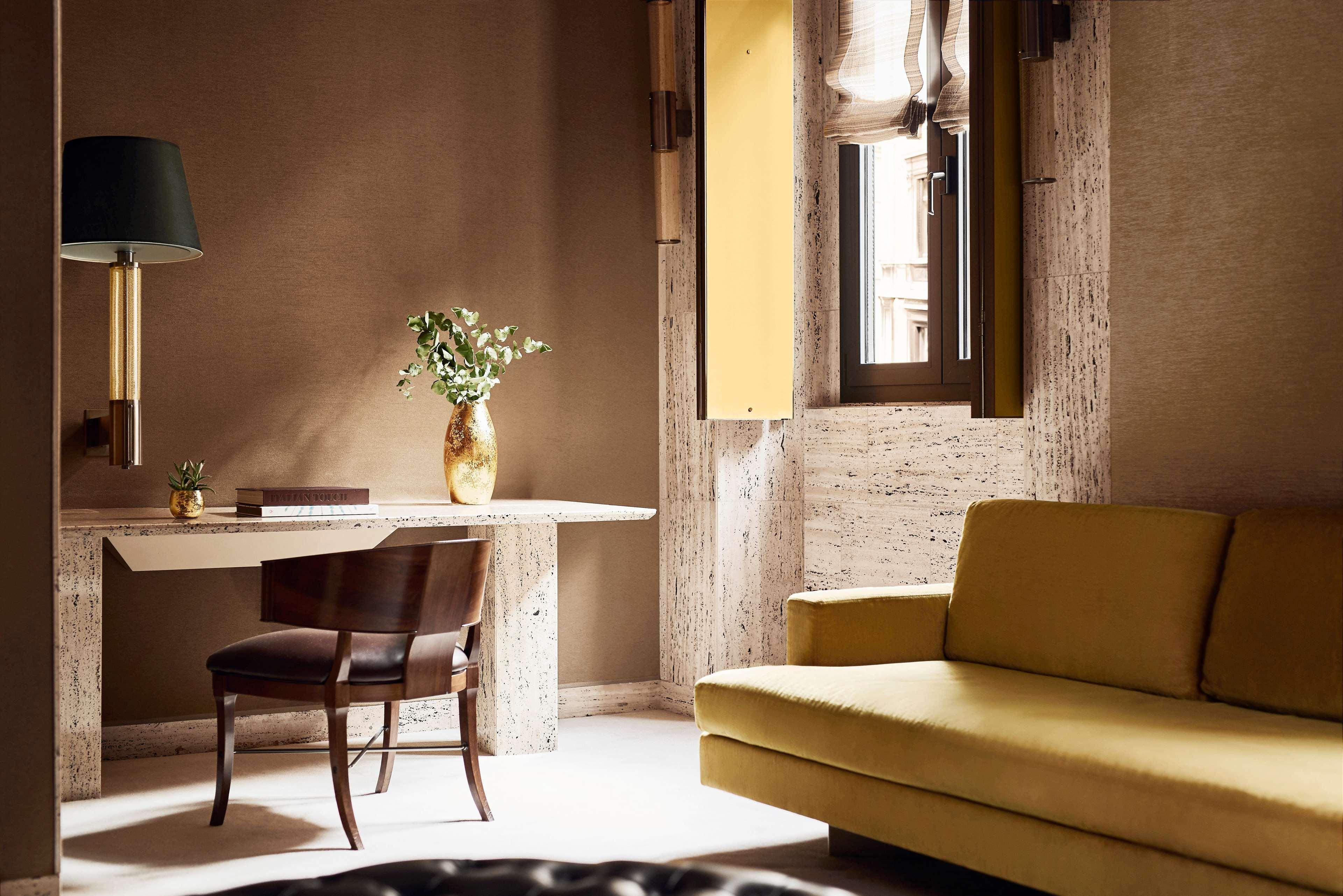 Highlights
Hotel Awards
According to guest reviews, the hotel has been rated as 
Use Badge
Address
Via Tommaso Grossi 1
,
Milan
,
Italy
,
20121
, Area Nord
Overview
Providing guests with cars, the 5-star Park Hyatt Milano is placed 0.2 miles from the neoclassical Galleria Vittorio Emanuele II. The surrounding area includes Duomo di Milano Cathedral and Duomo subway station just walking distance from the hotel.
Location
Staying in the Milan hotel, you are invited to discover the romantic easily accessible Sempione Park, located only 0.9 miles away, or visit sports venues like the Giuseppe Meazza San Siro Stadium, which is 15 minutes away by car. The large 16th-century palace "Palazzo Marino" is a mere 5 minutes by foot from Park Hyatt Milano hotel, while Il Cenacolo is a 5-minute drive away. This Milan accommodation stands minutes' driving from the 1100s church "Basilica di Sant'Ambrogio", popular with pilgrims and tourists alike.
Linate airport is 0.5 miles from Park Hyatt Milano and Milan Cadorna train station is a 20-minute walk away.
Rooms
The Milan hotel features 106 rooms equipped with a flat-screen TV with satellite channels as well as a mini-fridge-bar. Some units include a private bathroom where you can relax and use a roll in shower.
Eat & Drink
Residents can have breakfast in the restaurant. In the onsite restaurant La Cupola restaurant, guests can have their lunch while enjoying American cuisine. There is a pizzeria serving European food about a 5-minute walk away.
A full breakfast is served at the price of EUR 55 per person per day. 
Leisure & Business
Also, a wellness area will be a perfect addition to your stay. Business travelers are welcome to use a business center offered on site.
Internet
Wireless internet is available in the entire hotel for free.
Guest Parking
Private parking is possible at a location nearby at EUR 60 per day.
The hotel staff speaks English, German, Spanish, Italian, Chinese, Russian.
Number of floors:   6.  Number of rooms:   106.
Best-Rated Hyatt Hotels and Resorts Hotels around Milan
Hyatt Hotels and Resorts pride themselves on providing exceptional service to their guests. From personalized attention to exquisite amenities, they take care of every detail to ensure that each guest's stay is unforgettable. With a commitment to sustainability, the brand values the environment and works towards reducing their carbon footprint. Hyatt Hotels and Resorts offer a luxurious experience that goes beyond expectations.
262 reviews

117$ / night

106 reviews

541$ / night

191 reviews

212$ / night

99 reviews

179$ / night

401 reviews

61$ / night

216 reviews

219$ / night

421 reviews

109$ / night

45 reviews

650$ / night
Facilities
Most popular facilities
24-hour services
24-hour reception
24-hour room service
24-hour security
Food/ Drinks
Bar/ Lounge area
Restaurant
Spa and relaxation
Jacuzzi
Massage
Spa & wellness center
General
Wi-Fi
Parking
Baggage storage
24-hour services
Food/ Drinks
Shuttle
Fitness/ Gym
Spa and relaxation
Sports & Fitness
Fitness center
Cycling
Golf course
Services
Paid airport shuttle
24-hour room service
Housekeeping
Car rental
Laundry
Dry cleaning
Tours/Ticket assistance
Dining
In-room breakfast
Restaurant
Bar/ Lounge area
Special diet menus
Business
Business center
Meeting/ Banquet facilities
Fax/Photocopying
Children
Cribs
Babysitting/Child services
Children's menu
Spa & Leisure
Spa & wellness center
Sauna
Jacuzzi
Massage
Room features
Air conditioning
Heating
In-room safe
Mini-bar
Soundproofed rooms
Sitting area
Patio
Terrace
Tea and coffee facilities
Turndown service
Dining table
Ironing facilities
Rollaway beds
Bathroom
Bath/ Shower
Hair dryer
Free toiletries
Bathroom telephone
Media
Flat-screen TV
Direct dial telephone
AM/FM alarm clock
Good to know
Check-in
from 15:00-23:59
FREE
Check-out
until 12 pm
FREE
Pets
Pets are allowed on request.
License number
015146-ALB-00378
Rooms and availability

Bed options:

Room size:

435 sq. feet

Max:

3 persons
Shower

Coffee machine

Heating

Bathtub

Bed options:

Room size:

325 sq. feet

Max:

1 person
Shower

Coffee machine

Heating

Air conditioning

Bed options:

Room size:

380 sq. feet

Max:

2 persons
Shower

Coffee machine

Heating

Air conditioning
Location
Via Tommaso Grossi 1
,
Milan
,
Italy
,
20121
, Area Nord
City landmarks
Nearby
Restaurants
Hotels nearby
Church
Santa Maria Delle Grazie
4800 ft
Museum
Pinacoteca di Brera
2700 ft
Corso di Porta Ticinese
Colonne di San Lorenzo
4200 ft
Church
Basilica di Sant'Ambrogio
5100 ft
Church
Chiesa di San Maurizio al Monastero Maggiore
2700 ft
Via Monte Napoleone
Via Monte Napoleone
2800 ft
Museum
Museo Nazionale della Scienza e della Tecnologia Leonardo da Vinci
2700 ft
Museum
Milan Natural History Museum
5100 ft
Museum
Bagatti Valsecchi Museum
2900 ft
Gallery
Gallery of Modern Art
4400 ft
Church
Basilica of San Lorenzo
3800 ft
Museum
La Triennale di Milano
5200 ft
Piazza del Duomo
Galleria Vittorio Emanuele II
1000 ft
Gallery
Royal Palace of Milan
1900 ft
Piazza del Duomo 14
Terrace on the Duomo
1400 ft
Largo Antonio Ghiringhelli 1 Piazza della Scala
Theater museum La Scala
800 ft
Museum
Museum of the Twentieth Century
1700 ft
Church
Sacello di San Satiro
1200 ft
Museum
Ambrosian Library
1600 ft
Museum
Museo Poldi Pezzoli
1600 ft
Restaurant
Venchi Cioccolato e Gelato
100 ft
Restaurant
Ristorante Galleria
500 ft
Getting around
Train
Milano Cadorna Railway Station
4000 ft
You can book a shuttle, once your reservation is complete.
Reviews of Park Hyatt Milano
Lewis

Spent New Year's Eve in a wonderful hotel in the heart of the city. The rooms were spacious, with top-notch amenities and an amazing bathroom. The hotel location could not have been better, just steps away from one of the most beautiful Gallerias and from the main square. The breakfast buffet was bountiful and delicious. The staff was incredibly friendly and helpful, providing excellent recommendations for places to dine.

The only downside was the price of meals at the hotel's restaurant. The menu didn't seem to match the prices, which were quite high. We found it more affordable and enjoyable to explore the numerous restaurants in the area. The other minor issue was that the Wi-Fi was slow and it kept disconnecting frequently. an excellent stay in a lovely hotel.

Jacob

Complimentary wine and snacks were offered upon arrival, a nice touch for a weekend getaway. The location was phenomenal, within walking distance to the major attractions. The nearby restaurants provided a variety of delicious options. The room was comfortable and clean, with nice amenities such as a hairdryer and complimentary toiletries.

The breakfast was not included and expensive for what was offered. The noise level from the street was a bit disruptive at night.

William

This hotel is a luxurious venue, offering exclusive amenities that cater to all our needs. The Spa & wellness centre was outstanding, equipped with a sauna, Jacuzzi, massage and spa centre. The room advantages were wonderfully designed and comfortable. We enjoyed the delicious breakfast served in-room. The location was a perfect advantage, providing easy access to shopping and dining.

The bar and lounge area did not meet our expectations. Although the special diet menus were satisfying, the private facilities were not as exclusive as expected. we had a delightful stay at this hotel and satisfying experience. The service was impeccable, and the location was excellent for exploring the city. We will definitely choose this hotel again for its luxury amenities and attentive staff.

Michael

Received two free beers upon arrival and the bed was comfortable. The hotel was located near a popular shopping district and a famous cathedral. Additionally, the wifi connection was strong throughout my stay.

My Thanksgiving experience was not a pleasant one. The staff were not accommodating, even after repeated requests. The overall service left much to be desired, with rooms being unclean and unsanitary. It was a truly disappointing stay.

Neil

The hotel provided a truly luxurious experience. The exclusive amenities were top-notch, including the Spa, Sauna, Jacuzzi, and Massage services. The room advantages were also outstanding, with a spacious and elegant design. The Restaurant's Special diet menus were excellent, and the Bar/Lounge area was a great place to unwind. Moreover, the private facilities were of exceptional quality, making me feel pampered and attended to. Furthermore, the location advantages were ideal, with many places of interest within walking distance.

The only minor issue encountered during my stay was the room service delay. Although it was understandable considering the high demand, it could have been improved. this hotel was an excellent choice for a luxury stay, providing outstanding service, top-notch facilities, and a pampering ambiance, making me feel right at home. The staff was friendly and attentive throughout my stay.

missing

Stunning Staff Service and instant positive response!!! I booked a Deluxe Room but i didnt want the street view, so i got a free upgrade to the Junior Suite with inside view. I even got a complimentary WiFi Internet when i told them that my iPad 3G signal is weak! The Hotel, room and toilets are super clean! I would love to come back again, especially the location, better than Four seasons and Bvlgary Hotels.

I couldnt find anything negative during my stay.

missing

The quality and luxe comfort of this hotel is reflected in the outrageous prices therefore most suitable the business traveller or world class shopper. Location is outstanding, concierge service perfection, room and amenities superb. Lobby lounge is great for a quiet and comfortable meeting place- nice ambience without being over the top.

Don't go for a cocktail in the hotel bar unless you've just won the lottery! Service and room are delightful but the price of drinks is shocking. Guest bedrooms are an elegant and calm oasis but bathrooms (although all marble and mirrors) are also the clothes closet! Drawers and hangers are located next to vanity with minuscule rack for hanging clothes - not great for his and hers travelers but this is minor compared with the overall excellent experience.

missing

missing

all mentioned above. location, service, room space (stayed at normal double)/ expensive but it is worth of it.

missing

The courtesy of the staff. Everyone was absolutely fantastic, from the doormen to the guest relations manager Anja.

The rooms and the corridors are a bit too dark and the room furnishings a bit too austere.

missing

This in one of the few hotel that can make you feel best. Superb service, excellent location, top design. No wonder they achieve so many award. I specially give many compliments to one of their Consierge, Mr. Nicola. He's the best.

None.

missing

this is the best hotel i stayed on my life

every things is perfect specially the staff

missing

location was excellent, staff also, very very nice and helpful.

all was good.except for my sink drain which was clogged, which the front desk immediately acted upon.

missing

The staff were wonderful and the location is the best in Milan.

There was a broken photocopier machine right outside our room. the room itself could have been cleaner and the hotel corridors are shabby it urgently needs renovation and better housekeeping.

missing

relaxed, elegant

restaurant good, not superb [i expected superb]